All of us here at ETAP-Lab and STROK@LLIANCE hope all of you are in good health, and wish you every success in all your endeavours, in 2021 and beyond.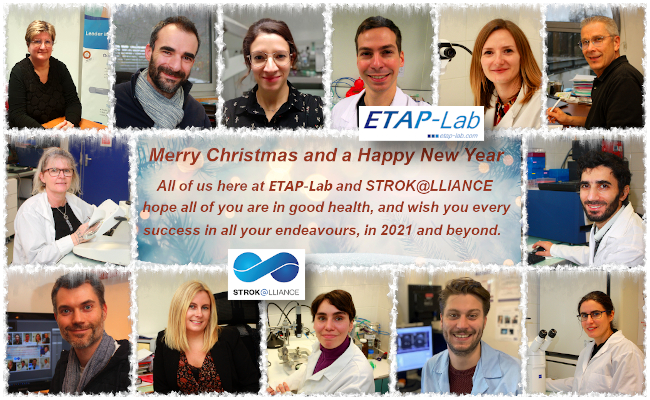 As we approach the end of this year unlike any other, we wanted to let you know how ETAP-Lab has managed – and share our plans for 2021 with you.
During the health crisis
Despite two periods of lockdown ETAP-Lab's activity has not diminished – quite the opposite, in fact! Having ground to an almost complete halt in the spring, the number of research projects entrusted to us has since continued to increase, demonstrating the vitality and resilience of the health innovation sector.
Without ever compromising on quality, our highly-motivated and responsive team has risen to the challenge of reorganisation, allowing us to continue serving you while also ensuring that our employees are protected.
Once again, we would like to thank our customers for the trust they place in us, and our employees for their commitment.
The outlook for 2021
Despite hopes that a vaccine against COVID-19 will soon be available, it's clear that some of the changes in how we all work and communicate are here to stay. In addition, much uncertainty remains as to the effects of the health crisis on the global economy.
Nevertheless, positive feedback on 2020 is building confidence in our ability to reinvent ourselves – and armed with this, we are looking to the future with confidence. ETAP-Lab will continue to develop, expanding our range of services. Our many plans include new buildings, fresh scientific collaborations, increasing our in vitro capacity and developing our exports.
2021 looks promising to us!
2020 innovations
The past year has also provided us with a chance to continue our internal research activity, focused on the validation of translational in vitro/in vivo models in our areas of expertise.
Neurology

We have just completed validation of a new in vivo model of Alzheimer's disease, injecting AB1-42 oligomer into 18-months mice
We have also developed an innovative model of thromboembolic stroke in diabetic mice

Dermatology

By validating new reference compounds and routes of administration, we have continued developing our psoriasis model
We have also set up a skin grafting model in nude mice
Keep up with our news
We regularly publish news that includes relevant scientific content.
Follow us on LinkedIn: ETAP-Lab and STROK@LLIANCE